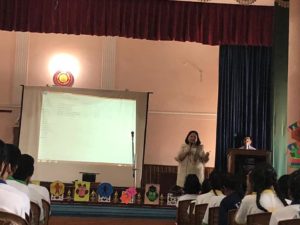 A workshop was organised on "Global Warming and importance of Clean Energy" by a prominent Environmentalist and Communications expert Dr Seema Javed on 27 October 2018 in the Udaya Auditorium. 
Dr Javed is an independent journalist & at the forefront of environmental activism in UP. She uses storytelling as an effective medium to engage with young minds and raise awareness about global temperature rise and its consequences. 
Dr Javed's relentless spirit and efforts have been recognised by many organisations some of which are:
* Honoured by PRESS CLUB of U.P in 2009.
* HONOURED by NAGRIK SURAKSHA SANGATHAN, LUCKNOW.
* HONOURED by CIMAP & INDIAN SCIENTIFIC WRITERS ASSOCIATION.