English Oral –
Rhymes – If I were an apple , I am a little
teapot , Pussy cat Pussy car , Traffic
Light.
English Witten –
Words of sound a,e,i,o,u
Sound Blends
Double Letter Words
Digraphs
Related exercises.

Maths Oral & Written–
Forward counting 1 to 200
Backward counting 100 to 1
Number names 1 to 50
What comes After/Before/Between
Put the sign (> , < , =)
Bigger / Smaller number
Shapes
Pre maths concepts (Heavy and Light,
Long and Short , Full and Empty , More
and Less , Same and Different)
Table of 2, 3, 4
HINDI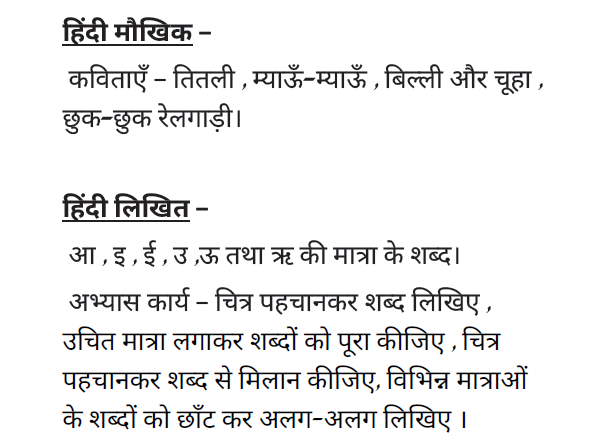 EVS Oral /Written–
Body parts, Sense organs, Uses of hands
and legs, Healthy and Unhealthy Food,
People who help us, Good Habits, My
Family, Safety Habits.

Art & Craft –
Draw your favourite Fruit and Vegetable
and colour it neatly.
Make Dog face by paper folding.