Entrance Exam conducted on 6th March, 2022 for the academic session 2022-20223
List of successful candidates in written examination held on 6th March, 2022. Interview, Admission and Fee Submission will take place on 11th, 12th and 14th March 2022 (Timing 10:00am to 3:00pm).
Please bring the previous class Marksheet at the time of Interview.
| | | | |
| --- | --- | --- | --- |
| S.No. | Class | Name | Father's Name |
| 1 | LKG | Aadvik Verma | Mr. Sajeev Kumar |
| 2 | LKG | Anushree Tripathi | Mr. Anuj Kumar Tripathi |
| 3 | LKG | Aradhya | Mr. Shiv Kumar |
| 4 | LKG | Arshita Soni | Mr. Sharad Chandra Soni |
| 5 | LKG | Avika Tiwari | Mr. Uma Sharan Tiwari |
| 6 | LKG | Ayansh Gupta | Mr. Ashish Gupta |
| 7 | LKG | Ishi Srivastava | Mr. Ashok Kumar Srivastava |
| 8 | LKG | Pragya tripathi | Mr. Mithilesh Tiwari |
| 9 | LKG | Sanskriti Pandey | Mr. Ajay Pandey |
| 10 | UKG | Aashirya Singh | Mr. Om Prakash Singh |
| 11 | UKG | Advika Choudhary | Mr. Swapnil Choudhary |
| 12 | UKG | Amigya | Mr. Amit Kumar |
| 13 | UKG | Ayushi Ranjan | Mr. Mahendra Kumar |
| 14 | UKG | Ishika Pal | Mr. Rakesh Kumar |
| 15 | UKG | Jayas Patel | Mr. K.K Verma |
| 16 | UKG | Krishna Kumar Dubey | Mr. Saurabh Kumar Dubey |
| 17 | UKG | Rishika Verma | Mr. Ravindra Verma |
| 18 | UKG | Swastik Mishra | Mr. Nitin Mishra |
| 19 | UKG | Aishwarya Pratap | Mr. Rajesh Kumar |
| | | | |
| --- | --- | --- | --- |
| S.No | Class | Candidate Name | Father's Name |
| 1 | I | Aaban Khan | Mr. Mohd. Waseem Khan |
| 2 | I | Abhiman Suryavanshi | Mr. Vikash Kumar Singh |
| 3 | I | Ananya Verma | Mr. Amit Verma |
| 4 | I | Arya Singh | Mr. Sunil Kant Singh |
| 5 | I | Atharv Singh | Mr. Praveen Singh |
| 6 | I | Ayansh Srivastava | Mr. Harshit |
| 7 | I | Bhavya Singh | Mr. Sudhir Kumar Singh |
| 8 | I | Disha Chandra | Mr. Rajat Kumar |
| 9 | I | Hadi Abbas | Mr. Firoj Alam |
| 10 | I | Ishan | Mr. Deendayal Sharma |
| 11 | I | Mohammad Abbas Khan | Mr. Mohd Alim Khan |
| 12 | I | Mohammad Hussain Khan | Mr. Mohd Mohsin Khan |
| 13 | I | Mritunjay sharma | Mr. Baij Nath Sharma |
| 14 | I | Ojasva Pandey | Mr. Manish Kumar |
| 15 | I | Prasoon Singh | Mr. Vivek Singh |
| 16 | I | Prisha mishra | Mr. Prabhakar Mishra |
| 17 | I | Rudransh Pratap Singh | Mr. Shiv Shanker Singh |
| 18 | I | Satyam Gupta | Mr. Shambhu Nath Gupta |
| 19 | I | Shrishti Singh | Mr. SandeepKumar |
| 20 | I | Warisha Fatima | Mr. Imtiaz Hussain |
| 21 | II | Ariddhima Sen | Mr. Anajani Sen |
| 22 | II | Deepanshu Malviya | Mr. Navneet Kumar Malviyaa |
| 23 | II | Fariya khan | Mr. Naushad Ahmad Khan |
| 24 | II | Kritarth Shukla | Mr. AN Shukla |
| 25 | II | Manan Mandhyan | Mr. Ram Kumar Mandhyan |
| 26 | II | Pranay Anand Mishra | Mr. Abhishek Mishra |
| 27 | II | Shaurya Pratap | Mr. Abhishek Kumar |
| | | | |
| --- | --- | --- | --- |
| S.No | Class | Candidate Name | Father's Name |
| 1 | III | Aastha Soni | Mr. Raju Soni |
| 2 | III | Abhinav Pandey | Mr. Santosh Kumar |
| 3 | III | Ahem | Mr. Sant Kumar Yadav |
| 4 | III | Anubhav Singh | Mr. Anurag Singh |
| 5 | III | Archita Pandey | Mr. Brijendra Pratap Pandey |
| 6 | III | Ashutosh Sharma | Mr. Anang Sharma |
| 7 | III | Atharv Sai | Mr. Shailesh Kumar Singh |
| 8 | III | Kandarp Nand Srivastava | Mr. Prashant |
| 9 | III | Lakshya Raj Sonkar | Mr. Manoj Sonkar |
| 10 | III | Saksham Panday | Mr. Sunil Kumar Panday |
| 11 | III | Samar Manjhi | Mr. Dinesh Chand |
| 12 | III | Sanvi Verma | Mr.Girish Chandra |
| 13 | III | Vibhav Mishra | Mr. Prafulla Mishra |
| 14 | IV | Aarya Chaturvedi | Mr. Maneesh Chaturvedi |
| 15 | IV | Abhay Singh | Mr. Ajay Singh |
| 16 | IV | Abhyuday Patel | Mr. Manoj Kumar Verma |
| 17 | IV | Atharv Mishra | Mr. Arvind Kumar Mishra |
| 18 | IV | Gauri Singh | Mr. Ashutosh Kumar Singh |
| 19 | IV | Mariyam Afeefa | Mr. Jamshed Akhtar |
| 20 | IV | Palakshi Shukla | Mr. Prabhat Kumar Shukla |
| 21 | IV | Prakhar Singh | Mr. Ajay Kumar Singh |
| 22 | IV | Raunak Pal | Mr. Amit Pal |
| | | | |
| --- | --- | --- | --- |
| S.No | Class | Candidates Name | Father's Name |
| 1 | V | Aaryan Verma | Mr. Virendra Kumar Verma |
| 2 | V | Adwita Srivastava | Mr. Vishal Srivastava |
| 3 | V | Atishi Verma | Mr. Ram Abhilash Verma |
| 4 | V | Farina Anjum | Mr. Mohd. Asif |
| 5 | V | Samarth Singh Sengar | Mr. Manindra Kumar Singh |
| 6 | V | Shaurya Prajapati | Mr. Amar Nath Prajapati |
| 7 | V | Shivansh Chaurasia | Mr. Rajesh Kumar |
| 8 | V | Smriti Singh | Mr. Satya Prakash Singh |
| 9 | VI | Aadrika Singh | Late Mr. Ravi Singh |
| 10 | VI | Aanya Pathak | Mr. Nirankar Pathak |
| 11 | VI | Akash Nishad | Mr. Murli Dhar |
| 12 | VI | Akshat Gupta | Mr. Alok Kumar Gupta |
| 13 | VI | Amit Vikram Chaudhary | Mr. Girijesh Chaudhary |
| 14 | VI | Amogh Pratap Singh | Mr. Anjani Singh |
| 15 | VI | Anvi Chaturvedi | Mr. Sarvesh Kumar Chaturvedi |
| 16 | VI | Ashwani Pandey | Mr. Pawan Kumar Pandey |
| 17 | VI | Devam Srivastava | Mr. Manees Kumar Srivastava |
| 18 | VI | Manya Pathak | Mr. Arvind Pathak |
| 19 | VI | Raj Verma | Mr. Raj Kumar |
| 20 | VI | Riddhi Singh | Mr. Rajesh Kumar Singh |
| 21 | VI | Ritesh Chandra | Mr. Dinesh Chandra |
| 22 | VI | Shailvi Sai | Mr. Shailesh Kumar Singh |
| 23 | VI | Shikhar Maurya | Mr. Santosh Kumar Maurya |
| 24 | VI | Shreyansh Singh | Mr. Gyanendra Singh |
| 25 | VI | Shubhransh Arya | Mr. Som Dev Arya |
| 26 | VI | Swarnima Srivastava | Mr. Gunjan Shankar |
| 27 | VI | Vishesh Singh | Mr. Rajesh Kumar Singh |
| 28 | VI | Yashsav Patel | Mr. Vinod Chaudhary |
| 29 | VI | Yashi Singh | Mr. Jitendra Singh |
| | | | |
| --- | --- | --- | --- |
| S.No | Class | Candidaes Name | Father's Name |
| 1 | VII | Aaditya Raj Ranjan | Mr. Rajiv Kumar Ranjan |
| 2 | VII | Abhikshit Tripathi | Mr. Akhilesh Kumar Tripathi |
| 3 | VII | Abhinav Singh | Mr. Shiv Bishal Singh |
| 4 | VII | Adarsh Maurya | Mr. Anil Kumar Maurya |
| 5 | VII | Aditya Singh | Mr. Alok Singh |
| 6 | VII | Anubhav Pandey | Mr. Vijay Kumar Pandey |
| 7 | VII | Jai Vardhan Singh | Mr. Sarvendra Singh |
| 8 | VII | Mahesh Gupta | Mr. Ramji Gupta |
| 9 | VII | Shanvi Pandey | Mr. Ajay Kumar Panday |
| 10 | VII | Shreya Yadav | Mr. Dev Narayan Yadav |
| 11 | VII | Vasudhakshi | Mr. Ravindra Kumar |
| 12 | VII | Vidhan Kumar Verma | Mr. Rajesh Kumar Verma |
| 13 | VIII | Akshay Prajapati | Mr. Amar Nath Prajapati |
| 14 | VIII | Anamika Nishad | Mr. Murli Dhar |
| 15 | VIII | Aviral Ahuja | Mr. Rakesh Ahuja |
| 16 | VIII | Moon | Mr. Anurudh Kumar Gautam |
| 17 | VIII | Rudranshi Singh | Mr. Ashutosh Kumar Singh |
| 18 | VIII | Shreya Singh | Mr. Sarvesh Pratap Singh |
| 19 | VIII | Swapnil Verma | Mr. Rajesh Kumar Verma |
| 20 | VIII | Vinayak Nandan Tiwari | Mr. Viveka Nand Tiwari |
| | | | |
| --- | --- | --- | --- |
| S.No | Class | Candidates Name | Father's Name |
| 1 | IX | Abhishek Pandey | Mr. Santosh Kumar |
| 2 | IX | Abhishek Verma | Mr. Satish Chandra Verma |
| 3 | IX | Adarsh Kumar Yadav | Mr. S.B Yadav |
| 4 | IX | Akhilesh Maurya | Late Mr. R.K Maurya |
| 5 | IX | Arpit Gond | Mr. Arun Kumar |
| 6 | IX | Atul Yadav | Mr. Yadu Nath Yadav |
| 7 | IX | Ishti Mishra | Mr. Adarsh Kumar Mishra |
| 8 | IX | Kashish Maurya | Mr. Shivkumar Maurya |
| 9 | IX | Prabhu Charan Yadav | Mr. Raghunath Yadav |
| 10 | IX | Pradeepti Patel | Mr. Saurabh Patel |
| 11 | IX | Pragati Dubey | Dr. Bramha Prakash Dubey |
| 12 | IX | Pragati Maurya | Mr. Arun Mishra |
| 13 | IX | Pragati Mishra | Mr. Shreeram Mishra |
| 14 | IX | Rahul Pandey | Mr. Riddhi Nath Pandey |
| 15 | IX | Raman Kanaujia | Mr. Shivdayal Kanaujia |
| 16 | IX | Riddhima Prakash | Mr. Sudhir Prakash |
| 17 | IX | Samiksha Pandey | Mr. Akash Pandey |
| 18 | IX | Shatakshi Singh | Mr. Manish Singh |
| 19 | IX | Shaurya Pratap Singh | Mr. Dharmendra Singh |
| 20 | IX | Shikhar Pandey | Mr. Ajay Kumar Panday |
| 21 | IX | Shristi Verma | Mr. Amarnath Verma |
| 22 | IX | Shruti Srivastava | Mr. Anand Kumar Srivastava |
| 23 | IX | Siddhi Srivastava | Mr. Neeraj Kumar Srivastava |
| 24 | XI | Ananya Singh | Mr. Jitendra Singh |
| 25 | XI | Bhumi Srivastava | Mr. Sunil Kumar Srivastava |
| 26 | XI | Shambhawi Singh | Mr. Shailesh Kumar |
| 27 | XI | Srijanika Mishra | Mr. Alok Mishra |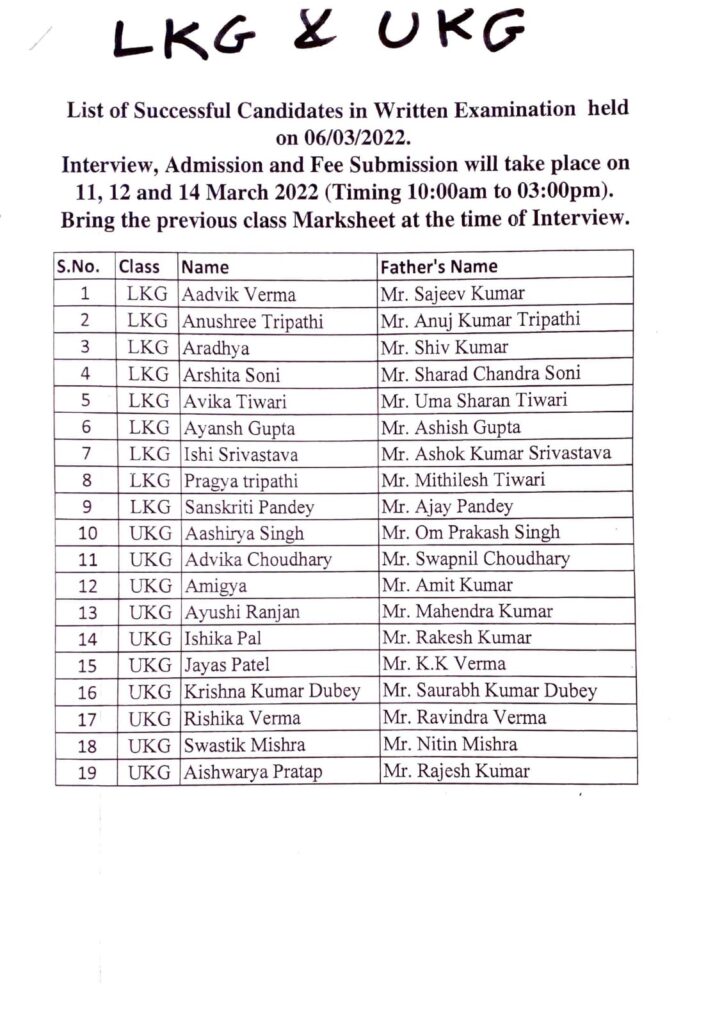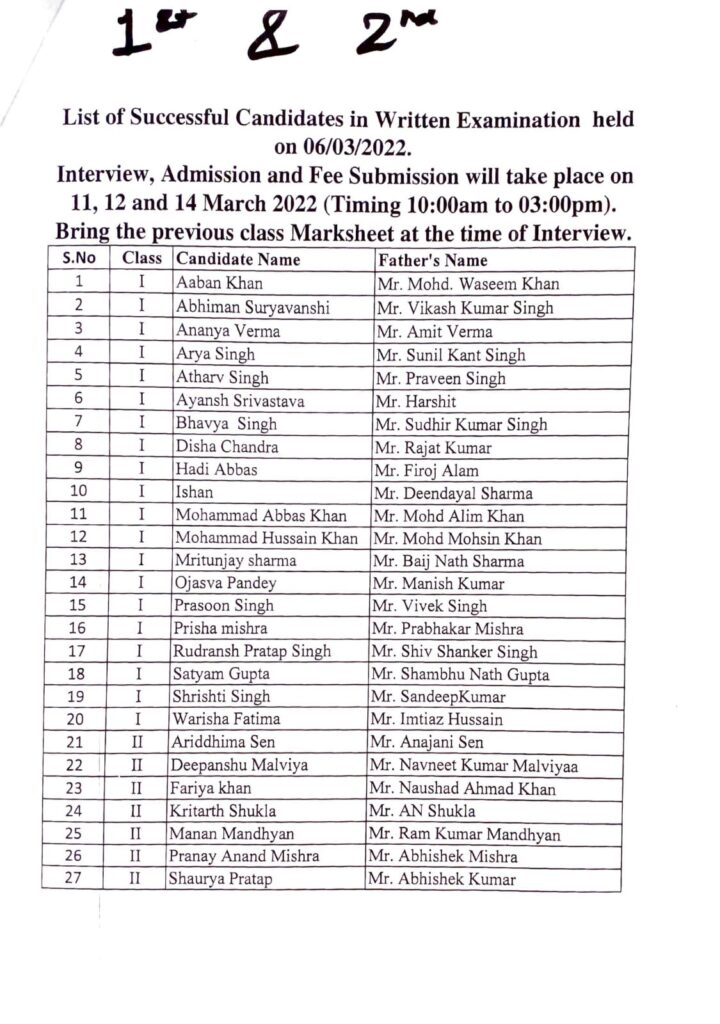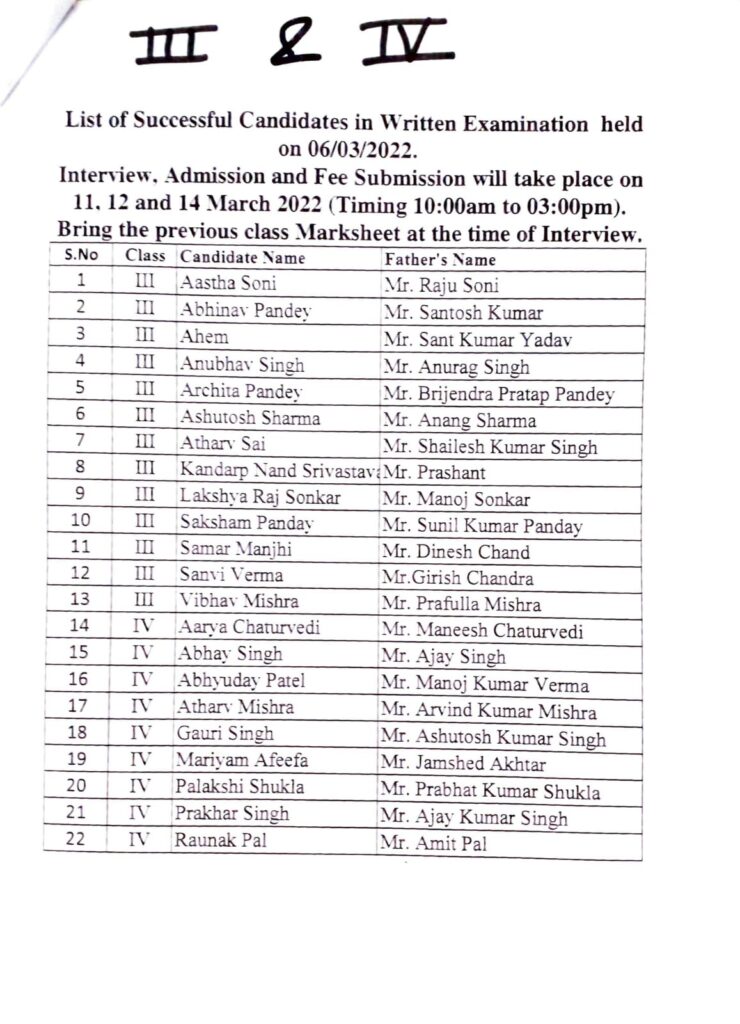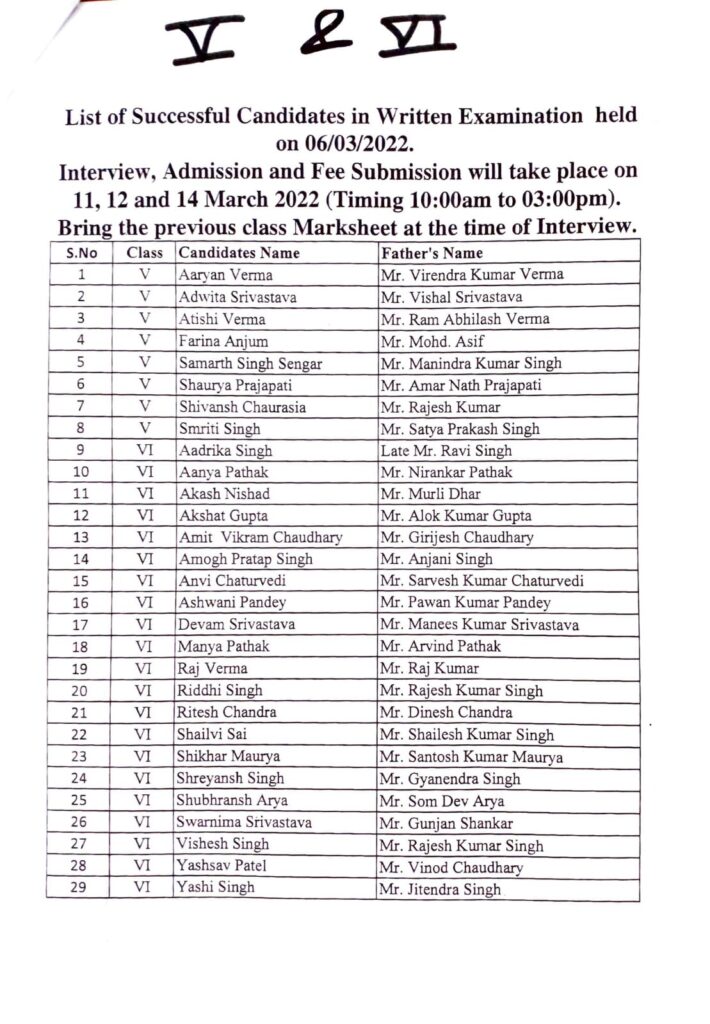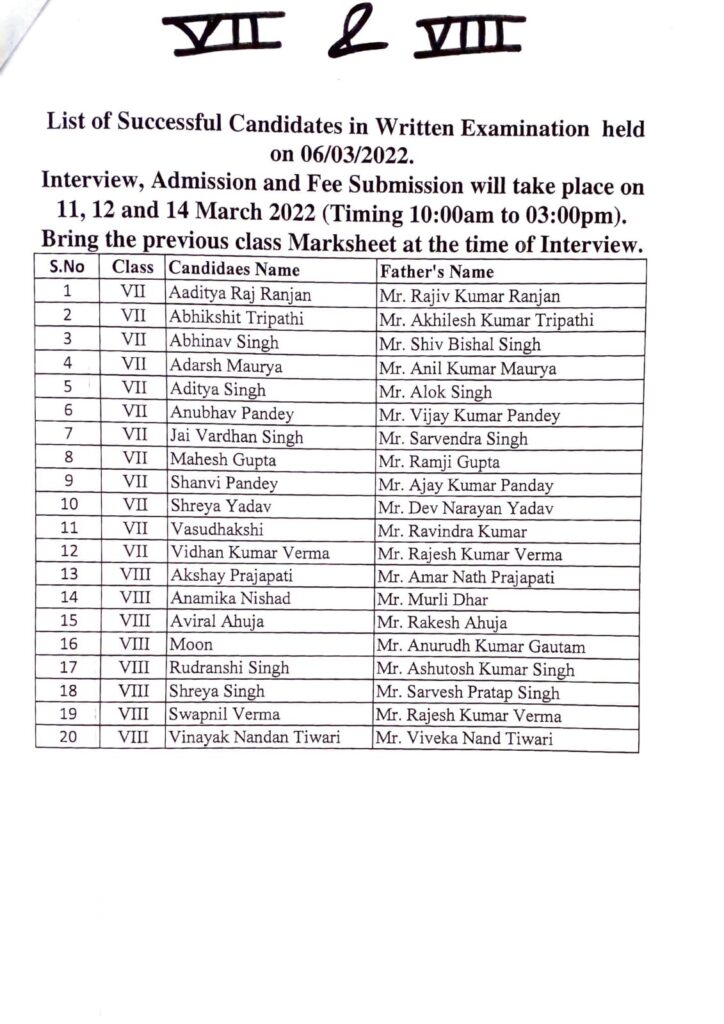 List of Waiting Candidates (Admission, Interview and Fee Submission will take place on 15th March, if seats are available)
| | | | |
| --- | --- | --- | --- |
| S.N. | Class | Candidat Name | Father's Name |
| 1 | I | Abhiraj Pathak | Mr. Sameer Kumar Pathak |
| 2 | I | Kavya Shukla | Mr. Chandra prakash Shukla |
| 3 | II | Abhinoor Kaur | Mr. Paramjeet Singh |
| 4 | II | Alankriti Mishra | Mr. Arvind Kumar Mishra |
| 5 | II | Ayushi | Mr. Arvind Kumar |
| 6 | III | Aradhya Verma | Mr. Kapil Deo |
| 7 | III | Arsh Soni | Mr. Sharad Chandra Soni |
| 8 | III | Laranya Yadav | Mr. Vivek Kumar yadav |
| 9 | III | Siddharth Singh | Mr. Virendra Kumar Singh |
| 10 | IV | Abhigyan Prakash | Mr. Alok |
| 11 | IV | Akshat Singh | Mr. Jai Prakash Singh |
| 12 | IV | Shiksha Patel | Mr. Mansha Ram Verma |
| 13 | V | Kavya Dubey | Mr. Rajesh Kumar Dubey |
| 14 | V | Rishi Soni | Mr. Dhananjay Kumar Soni |
| 15 | V | Rudransh Pandey | Mr. Jitendra Pandey |
| 16 | VI | Aadya Tripathi | Mr. Pankaj Tripathi |
| 17 | VI | Anushka Dwivedi | Mr. T.N. Dubey |
| 18 | VI | Jagriti Singh | Mr. Rajeev Kumar Singh |
| 19 | VI | Mohd. Ibrahim | Mr. Nisar Ahmad |
| 20 | VI | Rohan Panday | Mr. Riddhi Nath Pandey |
| 21 | VI | Shasmit Singh | Mr. Dharmendra Kumar Singh |
| 22 | VI | Shivam Singh | Mr. Bhanu Pratap Singh |
| 23 | VI | Swastika Mishra | Mr. Alok Mishra |
| 24 | VI | Vaibhav Pratap Verma | Mr. Ram Krishna Verma |
| 25 | VI | Vaishnavi Shukla | Mr. Shatrughan Shukla |
| 26 | VII | Arnav Mishra | Mr. Pramod Mishra |
| 27 | VII | Ayush Mishra | Mr. Sudhakar Mishra |
| 28 | VII | Devansh Pratap Singh | Mr. Sudhir Kumar Singh |
| 29 | VII | Disha Manjhi | Mr. Dinesh Chand |
| 30 | VII | Divesh | Mr. Shankar Dayal Singh |
| 31 | VII | Kartavya Verma | Mr. Rajesh Kumar Verma |
| 32 | VII | Medha | Mr. Dinanath Vishwakarma |
| 33 | VII | Prince Nishad | Mr. Manjeet Nishad |
| 34 | VII | Rishab Singh | Mr. Satish Kumar Singh |
| 35 | VII | Saumya Singh | Mr. Sunil Kant Singh |
| 36 | VII | Shagun | Mr. Deendayal Sharma |
| 37 | VII | Shreya Pal | Mr. Santosh Pal |
| 38 | VII | Sufia Ansari | Mr. Mohammad Rais |
| 39 | VII | Yashi Pandey | Mr. Pawan Kumar Pandey |
| 40 | VIII | Aaradhya Mishra | Mr. Ramendra M. Mishra |
| 41 | VIII | Chetna Singh | Mr. Sarvendra Singh |
| 42 | VIII | Harshita dubey | Mr. Rajesh Kumar Dubey |
| 43 | VIII | Pragya Mishra | Mr. Arvind Mishra |
| 44 | VIII | Saurabh Yadav | Mr. Shivnarayan Yadav |
| 45 | IX | Aradhya Pandey | Mr. Vijay Kumar Pandey |
| 46 | IX | Ayush Singh | Mr. Rajesh Pal Singh |
| 47 | IX | Ayush Verma | Mr.Girish Chandra |
| 48 | IX | Manya Chandra | Mr. Harish Chandra |
| 49 | IX | Raj Yadav | Mr. Panna Lal |