ENGLISH
*Reading-
Question based on the following kinds of unseen passages to assess inference, evaluation, vocabulary, analysis and interpretation:
Discursive passage (400-450 words)

Case based Factual passage (with visual input/ statistical data/ chart etc. 200-250 words)
* Writing-
Descriptive paragraph (Person)

Short Story (based on beginning line, outline, cues etc.)
*Grammar-
Tenses

Subject-Verb Concord

Modals

Determiners

Reported Speech

Commands and Requests

Statements

Questions
*Literature-
Questions based on extracts / texts to assess interpretation, inference, extrapolation beyond the text and across the texts.
*Moments-
The Lost Child
The Adventures of Toto
In the Kingdom of Fools
The Happy Prince
*Beehive Prose-
1. TheFunTheyHad
2. The Sound of Music
3. The Little Girl
4. A Truly Beautiful Mind
5. My Childhood
*Poems-
1. The Road Not Taken
2. Wind
3. Rain on The Roof4. A Legend of The Northland
HINDI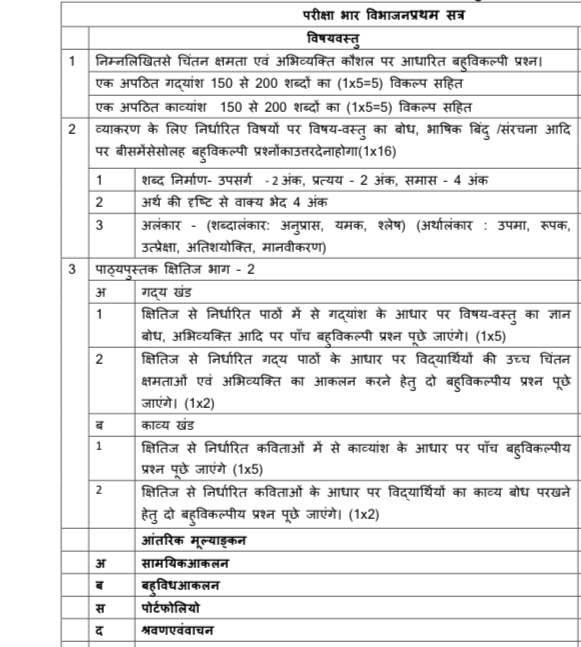 MATHEMATICS
NO. UNIT NAME
NUMBER SYSTEMS
ALGEBRA
COORDINATE GEOMETRY
GEOMETRY
MENSURATION
VI STATISTICS & PROBABILITY
SCIENCE
No. Unit Name
Matter-Its Nature and Behaviour: Chapter – 2
Organization in the Living World: Chapter – 5 and 6
Motion, Force and Work: Chapter – 8 and 9
SOCIAL SCIENCE
HISTORY
The French Revolution
GEOGRAPHY
India : Size and Location
Physical features of India
CIVICS
What is Democracy? Why Democracy?
Constitutional Design
ECONOMICS
The Story of Village Palampur
People as Resource
COMPUTER
Unit 2: Cyber Safety
​Chapter: Cyber Safety
Unit 3: Office Tools- I
​Chapter: Microsoft word 2010- I
​Chapter: Microsoft word 2010- II
​Chapter: Microsoft word 2010- III ​Chapter: Introduction to PowerPoint