ENGLISH
*READING-
Question based on the following kinds of unseen passages to assess inference, evaluation, vocabulary, analysis and interpretation:
Discursive passage (400-450 words)

Case based Factual passage (with visual input/ statistical data/ chart etc. 300-350 words)
*WRITING SKILL-
Formal letter based on a given situation.
Letter to the Editor
Letter of Complaint (Official)
Letter of Complaint (Business)
*GRAMMAR-
Tenses
Modals
Subject-Verb Concord
Determiner
Reported Speech
Commands and Requests
Statements
Questions
*LITERATURE-
Questions based on extracts / texts to assess interpretation, inference, extrapolation beyond the text and across the texts.
FIRST FLIGHT-
A Letter to God
Nelson Mandela
Two Stories About Flying
From the Diary of Anne Frank
The Hundred Dresses 1
The Hundred Dresses 2
POEMS-
Dust of Snow
Fire and Ice
A Tiger in the Zoo
The Ball Poem
HINDI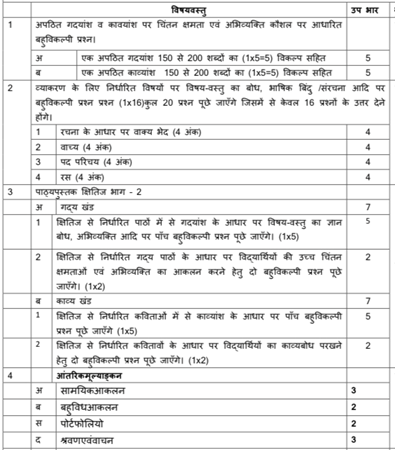 MATHEMATICS
NUMBER SYSTEMS
ALGEBRA
COORDINATE GEOMETRY
GEOMETRY
TRIGONOMETRY
MENSURATION
STATISTICS AND PROBABILITY
SCIENCE
Unit -1- Chemical Substances-Nature and Behaviour: Chapter 1,2 and 3
Unit-2- World of Living: Chapter 6
Unit-3- Natural Phenomena: Chapter 10 and 11
SOCIAL SCIENCE
History
The rise of Nationalism in Europe
Geography
Resources and Development
Agriculture
Water Resources (Map only)
Civics
Power sharing
Federalism
Economics
Development
Sectors of Indian Economy
COMPUTER
Unit 3:
Cyber ethics • Netiquettes. • Software licenses and the open source software movement. • Intellectual property rights, plagiarism and digital property rights. • Freedom of information and the digital divide. • E-commerce: Privacy, fraud, secure data transmission.
Unit 2:
HTML – I • Introduction to web page designing using HTML: create and save an HTML document, access a web page using a web browser. • HTML tags: html, head, title, body, (attributes: text, background, bgcolor, link, vlink, alink), br (break), hr(horizontal rule), inserting comments, h1..h6 (heading), p (paragraph), b (bold), i (italics), u (underline), ul (unordered list), ol (ordered list), and li (list item). Description lists: dl, dt and dd. Attributes of ol (start, type), ul (type). • Font tags (attributes: face, size, color). • Insert images: img (attributes: src, width, height, alt), sup (super script), sub (subscript). • HTML Forms: Textbox, radio buttons, checkbox, password, list, combo box.